270 Participate in First IVC National Day of Reflection
As the reality of the coronavirus pandemic hits home throughout the United States, the Ignatian Volunteer Corps has been learning to adjust.  Successful appeals to the US Payroll Protection Plan (PPP) and to generous friends and supporters have kept us afloat financially. Now, program adjustments have brought at least one notable success.  Click here to read more.
Following Up on Federal Relief
We want to thank everyone who participated in last Thursday's webinar, How Your Nonprofit Can Utilize Federal Relief, provided in partnership with Catholic Charities USA. In case you missed it, you'll find the webinar recording and accompanying slides below.  The webinar slides contain numerous, useful links to online resources regarding the CARES Act and federal relief.  Click here to read more.
How Your Nonprofit Can Utilize Current and Upcoming Federal Relief
We would like to support our over 300 nonprofit partners across the country, in their efforts to access current federal relief and raise their collective voices to ensure future stimulus packages meet the growing needs we are all witnessing on the front lines.  Click here to read more.
Act today!
Raise your voice TODAY! Charities and nonprofits are on the frontline responding to our neighbors and communities in need during the COVID-19 pandemic, but risk catastrophic damage from evaporating revenue, new and rising demands for assistance, and major disruptions in charitable giving. The Ignatian Volunteer Corps stands with our partner agencies in asking Congress for help! Together with our trusted partner, Catholic Charities USA, we ask you to act TODAY to tell Congress to provide emergency aid to nonprofit organizations in COVID-19 legislation. CLICK HERE TO ACT NOW!
Guidance on COVID-19
I write to you today to tell you how IVC is confronting challenges in our world, both new and old, as well as to reiterate our commitment to growing the Corps and continue responding to the needs of our nonprofit partners.
In response to the current public health crisis, we have asked our service partners to draw on the richness of our corps community by assigning projects that can be done from home. We are also ramping up recruitment efforts now to provide future service for our nonprofit partners who most certainly will be adversely impacted by these present challenges.  Click here to read more.
Ignite Funds Launch Currie Alumni Partnership for Service
A major focus of IVC's ongoing fundraising campaign, Ignite, has been to expand the organization's capacity and fund the new Currie Alumni Partnership for Service (CAPS) initiative. Thanks to the generosity of initial donors to the campaign in the Mid-Atlantic region, IVC has made considerable progress toward achieving these crucial goals.  Click here to read more.
Ignatian Resources in Uncertain Times
We are living in critically important times and it is not a stretch to state that people feel that we are grappling with many issues facing our country.  Many of the people we serve are unsure, vulnerable and even frightened as many changes are occurring, political motivations are conflicted and confusing as almost every day we seem to encounter new avenues of disaccord and suffering in our country and in our communities…in our world.  We need to face these times grounded even more deeply in our spirituality and faith to help us navigate our actions.  We invited Rev. Brian McDermott, an expert in Ignatian spirituality, to provide us with some tools to navigate our reflections and prayers.
He reflects for us this Lent on how contemplativeness, discerning spirits, and finding God's will can "aid us in troubled times to partner with God as we accompany" those we encounter.  Click here to read this special offering.
IVC Moves Headquarters to New (Nearby) Location
In what may be one of the shorter office moves you've heard of, IVC has moved its headquarters about 100 yards to the East and up two floors. For years, our home has been in the St. Paul Street building that we shared with the Jesuit Volunteer Corps, on the campus of St. Ignatius Church in Baltimore. Recently, the parish began a project to create a pre-school to address a need in the community. One important requirement for a pre-school is ground floor access. Since our offices were on the ground floor, we were asked by the parish to move to a different space, just up the stairs from the parish office. We're still getting settled into our new offices spaces, but look forward to welcoming any visitors who'd like to  stop by. Please make a note in your address book; our new address is:
Ignatian Volunteer Corps
112 E. Madison Street, Suite 300
Baltimore, MD 21202
Our phone and fax numbers, as well as our web and e-mail addresses remain unchanged.
Still looking for a gift for someone you love?  Consider giving to IVC in his or her honor.
A gift to IVC is 4 gifts in 1:
a heartwarming gift for a friend or loved one,
a financial gift to an organization that is doing good work, and
a gift to Ignatian Volunteers whose lives are transformed through service and Ignatian Spirituality.
Every dollar you give is multiplied four times in the value of the service Ignatian Volunteers provide to agencies serving those in need.
We have a special "thank you" for your gift this Christmas.  For every donation of $200 or more, we will send you a copy of Mark Shriver's new book Pilgrimage: My Search for the Real Pope Francis.   And for each gift of $500 or more, you will receive a copy signed by the author.  This book will arrive to you after Christmas as our thank you for your generosity!
We invite you to make a gift today!
IVC in the Media Spotlight! 
IVC Regional Directors Dave Hinchen (New England) and Joanie Coolidge (Northern Virginia) were recently interviewed by media in their regions. Dave, along with Ignatian Volunteer Ann Bersani, was interviewd on CatholicTV.com, a Catholic TV outlet in New England. Dave and Ann were interviewed on the show 'Aging Gracefully' and provided a great overview of IVC and why it's a great opportunity for the show's audience. Joanie was interviewd by a local FM-radio station in Arlington, WERA-FM. Her appearance on the 'Grace in 30' program allowed Joanie to share several stories of volunteers, agency partners, and the people served by IVC in Northern Virginia. Please check out both of these programs, and share the link with your friends, neighbors, relatives and colleagues. Thanks to Dave, Ann and Joanie for sharing their experiences; and thanks to CatholicTV.com and WERA-LP for helping us to get the word out about IVC!
IVC Accredited by Standards for Excellence Institut

e

®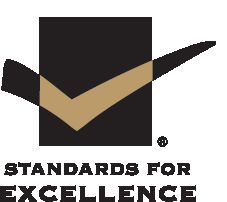 We are proud to announce that IVC has been accredited by the Standards for Excellence Institute for successfully fulfilling the requirements of their Standards for Excellence® program. The Standards for Excellence Institute is a national program to help nonprofit organizations achieve the highest benchmarks of ethics and accountability in nonprofit governance, management and operations.  This accreditation illustrates our commitment to upholding the principles and practices of the Standards for Excellence®: an Ethics and Accountability Code for the Nonprofit Sector, which includes six areas of nonprofit operations:  I. Mission, Strategy and Evaluation, II. Leadership: Board, Staff, and Volunteers, III. Legal Compliance and Ethics, IV. Finance and
Operations, V. Resource Development, and VI. Public Awareness, Engagement, and Advocacy.
The accreditation program required exposing all aspects of organizational operations, including everything from official minutes for board meetings to personnel policies and program evaluations, to a thorough examination by staff at the Standards for Excellence Institute, a panel of peer reviews and the Institute's volunteer Ethics Standards Committee to demonstrate our compliance with the 67 standards . The results prove that IVC excels in management, fundraising and fiscal practices. This accreditation is a a "Good Housekeeping"-type seal of approval to demonstrate that IVC is performing as promised after comprehensive evaluation by practitioners and industry experts.
IVC Board Provisionally Approves Two New Regions
At its May meeting, the IVC National Board of Directors voted to provisionally approve two new IVC service regions – IVC Milwaukee, WI and IVC Scranton, PA.  This is the next step in a grassroots organizing process for these two regions, supported by the IVC national office.  Each region has a key leadership team in place and has conducted a feasibility study which includes research on poverty in the area, conversations about collaboration with community nonprofit organizations, and early fundraising efforts to begin to support the local IVC region.  These new regions will continue to fundraise locally and then to hire Regional Directors and recruit and place new Ignatian Volunteers in service.
The IVC Board recognizes the hard work of these leadership teams and looks foward to continuing to work with local representatives on the next steps for these regions, expanding IVC's impact on poverty in this country!
New IVC Region Opens in Buffalo, NY
The IVC National Board of Directors voted in September to approve a new IVC Region in Buffalo, NY. This is IVC's 18th regional office.
"The core leadership team in Buffalo has been working very hard and has demonstrated the commitment to bring the IVC mission there to serve the needs of those in poverty.  It takes strong dedication to the mission and faith in the work of the Holy Spirit for a team to bring a new region to life," states Mary McGinnity, IVC Executive Director.  "I want to thank especially Kevin Merriman who spearheaded this effort locally and Tom Ulrich of our national staff for bringing together everything necessary for this launch."
The inspiration to open an IVC Regional Office in Buffalo began with Kevin Merriman's experience making the 19th Annotation of the Spiritual Exercises at St. Michael's Jesuit Parish in downtown Buffalo. He thought that participating in an effort to start an IVC Region would serve several needs. "I felt it would fulfill my personal need to live my life in a more meaningful way, that it would serve St. Michael's parish's need to provide faith formation and service opportunities to the community, and it would serve the needs of the poor and human service agencies serving them in the greater Buffalo community," says Merriman.
"I began to share this idea with others, and we have a really dynamic team of professionals and religious working together. In consultation with the IVC National Office, we conducted a needs assessment and gauged the response of local human service organizations. We reached out to a dozen organizations to see if they'd be interested in collaborating with us, and the response was overwhelmingly positive. Once it was determined that there was a need for IVC in Buffalo, we began fundraising and working to secure IVC board support," Merriman describes.
Working in partnership with national staff who provided professional organizing guidance, "how to" materials and on-going support, an eight person core team of committed leaders has been working for over a year to establish IVC Buffalo, first through a feasibility study and then fundraising. To date, IVC Buffalo has the local Jesuit Community's support, office space in St. Michael's parish, and signed MOU's from five agencies who will welcome Ignatian Volunteers. They are now working to recruit Volunteers and to raise funds to hire a Regional Director.
Tim Lafferty on the Core Leadership Team has led efforts to establish relationships with partner agencies where Ignatian Volunteers will serve. Lafferty states, "In general terms there's a lot of excitement about IVC. The idea that an experienced professional would be available to human services organizations at a minimal cost to help with operations, accounting, fundraising, is very appealing to the organizations. They see it as an opportunity for great returns on their investment. They can improve their operations and back office efficiencies with an Ignatian Volunteer instead of hiring consultants or additional staff. What we bring is the expertise that comes from a career well spent. The organizations' budgets are tight, and IVC expands their capacity and allows the agency to focus on their mission."
Memoranda of Understanding have been signed with five organizations –Food Bank of WNY, Buffalo City Mission, Meals on Wheels for Western New York, The NativityMiguel Middle School of Buffalo, and Little Portion Friary. "These organizations are doing the Lord's work. There are a couple more groups in the wings, but we want to build up our volunteer pool before we recruit more partner agencies," Lafferty says.
Fr. Benjamin Fiore, SJ, pastor of St. Michael's Parish, is Chaplain to IVC Buffalo and has been integral in the planning process. He states, "I think IVC is a great initiative and offers people something they can do productively with their years of work experience in retirement. The extra aspect of Ignatian Spirituality and Spiritual Reflection is such an important and unique part of the program."
"I was very happy that when I proposed this idea to other Jesuits here, for them to accompany me in support of IVC, I received a very enthusiastic response." Fiore continues, "It's very heartening to know that we will have Spiritual Reflectors from Canisius High School and Canisius College ready to work with Ignatian Volunteers. The Provincial is supportive and there is a lot of cooperation among the Jesuit Apostolates here. IVC will fit right in. And while IVC will be housed here at the parish, we have great collaboration with other parishes and the high school and college. This bodes well for the diocese as we work to recruit Volunteers and begin the ministry here."
"Our core leadership team is very excited that the IVC Board has recognized the work that we've done to prepare for this point. We've identified the needs in our community and are ready to recruit Ignatian Volunteers to bring IVC's mission to Buffalo," Merriman says.
"It's been a joy to see this develop and grow," affirms Mary McGinnity.  "A new region joining with the other stellar regions will enable IVC to have an even greater impact on poverty in the U.S.!  In light of Pope Francis' on-going call to be servants for and with the poor, what could be better than that?"
Easter to Pentecost Challenge Grant –You Did It!  You Won the Grant for IVC! Thank YOU!
In the spirit of Easter and a faith that believes in resurrection and new life after sacrifice – a very generous contribution was made to IVC – but only if we met a challenge.
At its February 2015 meeting the IVC Board of Directors set out on a new challenge; one that would generate $300,000 in additional revenue for the agency's ongoing work.  The board committed to donate or raise $100,000 and obtained a commitment for an additional $100,000 gift from an anonymous couple. But the $100,000 gift would only be received if a further $100,000 could be raised by the broader IVC community between Easter and Pentecost.
Over the six weeks since Easter, the IVC Community has been working together to ensure that we met the goal of $100,000. Each IVC region developed activities to invite its local IVC community to support the effort, while the team at the National office added umbrella outreach efforts to make sure that the whole community was invited to participate. The results have been inspiring! You have been amazing! Although we won't have a final tally for a couple of weeks, the money that has come in so far has already exceeded the goal (see the Challenge Tracker, below).
The combined total of over $300,000 in revenue will help put IVC on a firm financial footing, after a difficult financial year in 2014.  What will this money do?  First of all these funds will help IVC regional staff recruit and place more volunteers in agencies that serve people working to overcome poverty, neglect and abuse. Our volunteers reach out to our brothers and sisters who need hope, and a helping hand. New life, new possibilities and hope will spring forth from the compassion, skill and commitment that our IVC volunteers uniquely bring.  Funds will also be used to support the development of new regions for IVC.  Currently there are 5 cities doing serious feasibility studies to set the stage for opening an Ignatian Volunteer Corps in their metro areas.
We're grateful for the work of IVC staff, Regional Councils, the national Board of Directors, Volunteers, Donors, and all who helped to make this achievement possible.
Thank you! One hundred thousand times!
IVC Receives Two New Seals of Excellence
Two respected organizations have awarded IVC their seals of excellence in the nonprofit sector.
IVC received the 2014 Top Rated Nonprofit Award from GreatNonprofits.org for a second year in a row.  This is an honor that we won in 2013 for the first time, by getting 10 or more 4 or 5 star reviews on GreatNonprofits.org, and by having an overall average rating of 4 or more stars. We're grateful to the many people who took the time to write a review of IVC over the past year, helping us to win a Top-Rated award for the second year running. To learn more, visit the IVC page on the GreatNonprofits website; while you're there, feel free to write a review to share your own experiences with IVC.
We have also been recognized with the Independent Charities of America Seal of Excellence, which is awarded to nonprofit organizations that have been independently reviewed annually and certified to meet the highest standards of public accountability, program effectiveness, and cost effectiveness.
Recognition from these two well-respected organizations will help us attract additional supporters and Volunteers to IVC!
IVC Financial Statements Now Available Online
IVC is a reflection of the faith and trust of those who support the organization's work: our volunteers, partners, donors, regional councils, clergy, board and staff. Without you, we would not be able to do the work that we have all been called to do.
IVC is a 501(c)(3) charity registered with the US Internal Revenue Service, but because it's categorized as a religious organization, is exempt from filing a Form 990 with the IRS. However, we place the highest value on transparency and accountability, so we not only file returns with the IRS, we also provide complete financial information on our website every year.
FY2013 financial documents are available for your perusal.
It was a record-breaking year for IVC, with a 25% increase in volunteers and a 32% increase in revenue. Thank you, as always, for the many ways that you support IVC's mission! We count on your continued generosity this year!
Newly Formed National Advisory Council to Strengthen Visibility of IVC
Several influential and well-known Catholics have joined the newly formed IVC National Advisory Council, intended to increase the visibility and accelerate the growth of the Ignatian Volunteer Corps.  The Council's formation was led by IVC  board member (and chair of the Magnify! Campaign) Richard Dowling, as a way to support the campaign. Magnify! aims to double the number of IVC volunteers reaching out to help their brothers and sisters in need in the US.
Joining the IVC National Advisory Council are:
 Mary Ann Glendon (Learned Hand Professor of Law at Harvard University and former U.S. Ambassador to the Holy See),


 James Martin, S.J. (author of The Jesuit Guide to Almost Everything and Between Heaven and Mirth),


 Sister Helen Prejean, C.S.J. (death-penalty repeal advocate and author of Dead Man Walking),


Cokie Roberts (author and ABC News correspondent),


Kevin Ryan (President and CEO of Covenant House International), and


Mark Shriver (Senior Vice President at Save the Children and author of A Good Man: Rediscovering My Father, Sargent Shriver)
According to Board Chair Matt McKenna, "IVC has experienced solid growth over the past three years, but our goal is to double our size in the next three years.  We want to engage the wave of  'baby boomers' currently entering retirement and put their skills and experience to good use helping people living in poverty."  IVC's board and leadership sought out Catholics whose influence and credibility could bring added visibility to the name and mission of IVC.

Mary McGinnity, Executive Director of IVC, expressed her gratitude and excitement about receiving the support of these "caring and compassionate Catholics, who through their own lives, have been examples of living out the Gospel call to dedicate ourselves to  serving  the poor."

We're looking forward to listening and learning from Council members and putting their ideas to work. Stay tuned!
Two Additional Grants Received!
IVC has recently received grants from two charitable foundations to help fund its work. The first grant, amounting to $100,000, is from a foundation that prefers to remain anonymous.  The grant supports the recent hiring of a National Marketing Director and a Regional Advancement Director.  A two-year grant has been received from the Clark Charitable Foundation, in support of IVC's Magnify! campaign. The grant is for $50,000, split evenly between 2013 and 2014. We are most thankful for the support we've received!
Raskob Foundation for Catholic Activities awards IVC high-impact grant:
This award is a three-year commitment of $350,000 for the support of volunteer programs in IVC's 16 regions and the planned eventual expansion of programs to other major U.S. metropolitan areas through the Magnify! Campaign.  The recently-awarded grant is in three segments: $200,000 for the current fiscal year and $75,000 a year for each of the two succeeding years.  The second and third year portions of the grant provide matching opportunities for IVC supporters.  The Foundation intends a close collaboration with IVC during the course of the grant and thereafter.  This award significantly impacts our ability to succeed.
Learn more about IVC's Magnify! Campaign.