Dear Friends,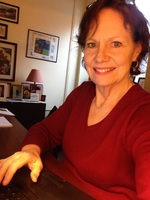 Take my job –
Please
!  Seriously.
And if you do, even for a couple days, you would experience the amazing presence of the Holy Spirit.
Today, Pentecost Sunday, we celebrate the gift of the Holy Spirit whose presence comes to open hearts and transforms them to be free to act in ways God intends for us to act – in love, generosity, kindness and forgiveness, justice and mercy.  When we humans act out of such divine spirit, the world receives healing and evolves in a higher, more beautiful and peace-filled way. "Lord, send out your spirit and renew the face of the earth" are words both spoken and sung in many gatherings and prayers today.
So back to taking my job.  If you could have lived directly my calendar the past two months you would have been deeply moved and inspired as I have been by the men and women who make up IVC.  In these weeks I have traveled and spent time in 5  IVC regions across the country meeting volunteers, regional council members, Jesuits, spiritual reflectors and benefactors.  I've been out to our partner agencies where our volunteers serve.   I've met with those agency directors and staff.   I've spent time with our own precious staff of regional directors and associates.  I saw in them the Holy Spirit "renewing the face of the earth".  It's real.  In this day and age where we hear so much of the fractured sin of our world, I want us to shout loudly in praise of the people we know and see who are animated by the Holy Spirit and bringing forth a healing and renewal.
The other joyful part of taking my job is you'll see how IVC is growing.  Today there are emerging new regions in Buffalo and soon in Milwaukee and Scranton….and we continue to get inquiries from other places about starting an IVC in their city.  I tell people it's like having a teenage son on a growth spurt.  We can't keep enough bread in the house!
And then the Holy Spirit sparks hearts again….listen to this:  we have two generous benefactors who together have issued a $150,000 challenge grant.  If we can raise $200,000 we receive an additional $150,000!
What does that total $350,000 do?   It enables us to recruit more volunteers and to support our current volunteers and the work that they do in 20 cities across the country.  We are in the middle of this challenge campaign and are almost at GOAL!  We have until JUNE 10 to make our goal and we have $60,000 left to raise.  If you haven't already made a donation – would you please consider helping us reach our goal?  If the spirit moves you, CLICK HERE.  With your donations we will continue to "renew the face of the earth" through the men and women of IVC!
On this feast of the Holy Spirit, let's hold our volunteers, all the people in the IVC community who support their work and most especially the people that we serve and agencies where we serve in prayer.  May God bless them and continue to inspire and energize their love and their work in renewing and healing the face of the earth.
Warmly,
Mary McGinnity
Executive Director