Dear IVC Friends,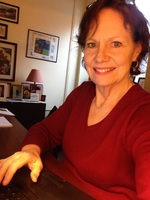 The Lenten Season is so beautiful in its invitation for spiritual growth.  As we walk with Christ to Calvary, we offer sacrifices and reflect on the gift of God's love.  In this Jubilee Year of Mercy, Pope Francis gives us a special invitation to reflect on God's bountiful mercy and to receive it anew. Then we share it with others as part of this healing. The corporal and spiritual works of mercy offer us concrete ways to do this.
That's what IVC is about – offering healing to individuals and communities struggling with poverty.  Feeding the hungry, clothing the naked, sheltering the homeless, comforting the sorrowful. Ignatian Volunteers are the merciful face of Christ to those they encounter.
I invite you to scroll down and read an article about and a reflection from two Ignatian Volunteers. Jesse Coronado's work with Habitat for Humanity helps families realize the American dream of homeownership. You'll read how he uses his gifts to the greater glory of God and those he serves. I also encourage you to read the blog written by Ignatian Volunteer Nancy Brouillard McKenzie, "Immigration and Lent: Mournful Women Weeping". Nancy's service puts her in solidarity with those suffering violence in Central America, and in her reflection she connects this to Mary's sorrow at the foot of the Cross. You'll be moved by these members of the Corps.
As we journey towards Holy Week, you are in my thoughts and prayers. I feel hopeful despite the suffering in our communities because of your involvement in our ministry of mercy and healing in the world!
Warm regards,
Mary